Mister Caruthers

The Stare

Also known as

The Bearded Dragon Lady

Known Operations

2

Gender

Male

Friends

Bugeater Peter(Owner)

Initial Heart Rate

80 BPM (ASCF)
57 BPM; 72 BPM (Lvl 70; P8)

Time Limit

3:19 (ASCF)
2:26; 1:40 (Lvl 70; P8)

Type

Common

Skill

Eats up annoying critters

Status

Escaped
Mister Caruthers III
is a recurring character throughout the series. He appears as a patient in
Amateur Surgeon 2: Circus Freak-out
and reappears as the 70th patient in
Amateur Surgeon 4: Re-Generations
, including another surgery under the label P8. He is also a choosable partner in
Re-Generations
.
Mister Caruthers is Peter's pet komodo dragon, who is usually seen by his side.
Amateur Surgeon 2: Circus Freak-out Edit
Sometime before the events of the game, Peter had a makeshift flamethrower surgically inserted into Mister Caruthers, giving him the ability to breathe fire. However, his flame began to fizzle as time went on. When Alan Probe arrives on the scene with his grandson Bradley, he helps enhance the flamethrower, replacing the broken parts with new ones. This allows Caruthers to spit out a huge amount of fire, possibly more than he did before.
Amateur Surgeon 4: Re-Generations Edit
Rashid re-generates Mister Caruthers while searching through the files of the Re-Generator. Seeing him filled with creepy-crawlies, Rashid takes out the car battery and exterminates them all. Not wanting to see the poor lizard de-generate, he attempts to secretly let Caruthers free from the lab, taking only his accessories to put back in the re-generator. Although Ophelia noticed this, Caruthers was able to leave without any problems.
Rashid's Description
Edit
I didn't know the Re-Generator had animals in it too? It says here that this little guy likes to eat bugs. I have a feeling that might be the source of his tummy troubles...
Personality and Appearance
Edit

Mister Caruthers normally has a top hat on his head along with a monocle, smoke pipe, collar and cane. In his later years he is dressed in feminine apparel and makeup, along with a shaggy grey wig and beard. Caruthers has a calm demeanor and takes a decent liking to Peter, though he sometimes seems annoyed with him. Insects are the lizard's favorite snack.
In Amateur Surgeon 4: Re-Generations, Caruthers has the ability to kill any bugs and other creatures he hits with his tongue.
Procedure
Edit
Amateur Surgeon 2: Circus-Freak-out
Edit
There's a lot of burns that need to rubbed with Pain Away on the neck. Then there's flames you need to suck up with the vacuum when you slice into him. When extinguished, you can saw off the dead canisters and replace them with better ones. Cutting into the next few parts of the body, you'll have to saw off the lighters to replace them. In the last part you'll be "shaving" off the beard with the chainsaw and replacing it as well.
Partner Surgery P8
Edit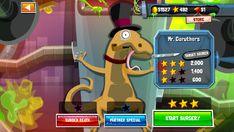 There's a bunch of bugs in this stage, just warning you right now. Lots of poison to suck up, too. Slice open the various clear-looking eggs with the pizza cutter to open them, letting out spiders to zap. That's pretty much the entire surgery, where you'll have to zap spiders and ants located outside the stomach and intestinal areas. The last bug may annoy some. Inside Caruthers' hat is a jittery fly, which tends to fly around the screen in swift speed. The key is to wait until it finally lands to take a break from buzzing around, where it leaves it vulnerable to zap.
To make this surgery a bit easier, take bug-killing partners with you.
In Amateur Surgeon 2: Circus Freak-out, his surname is spelled as "Carruthers" for some reason. It is likely a simple variation of the surname.
Caruthers makes a special appearance in the Pagoda of Pain, one of many themes of the Blood Cup tournaments. He goes under the name "Master Caruthers" and acts as the final patient.

Furthermore, an ancestor of Caruthers appears in the second surgery of the Through the Ages Blood Cup, found to be living in the Middle Ages with Petyr Ye Bugge-eater.
Community content is available under
CC-BY-SA
unless otherwise noted.