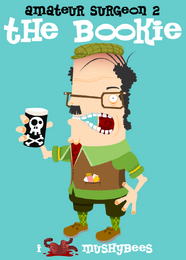 Ringo Fixit is first patient of Act 2 in Amateur Surgeon 2.
Alan's Description
[
]
Who is this mysterious man, found face down in a chicken coop? Are those peck marks on his body? Maybe if I can fix him up and not ask too many questions, he'll return the favour and let me use his shack.
​Procedure
[
]
First, use the tongs to remove the glass shards from the cuts and then sew the large cuts shut. Then, burn-and-gel the whole cut-up body. Next, cut into the lungs and repeat the same process as done on the body. Move onto the liver and remove the glass shards, sew the cuts, burn and heal them. Use the Scanner to detect the money located underneath, remove it and do the same for the large cuts. Finally, move on to the kidney and use the chainsaw to remove the defective kidney and replace it with a new one. Burn and gel into place.
​Trivia
[
]
A "bookie" is a slang term for someone who takes bets and deemed an illegal action, implying he was a bet holder.