T.B. Lancet

Sterile Riposte

Gender

Male

Known Operations

1

Initial Heart Rate

120 BPM

Time Limit

2:45

Partner Type

Common

Skill

Sucks up poison and boils
Thaddeus Benedict Lancet
, a.k.a
T.B. Lancet
, is a Common type partner from
Amateur Surgeon 4: Re-Generations
. His partner surgery can be found under the label P24.
Thaddeus was once a normal human being, holding a respectable reputation as a conservationist in an unnamed university. One day he had accidentally drank a mutagenic serum from the staff refrigerator, which resulted in a life-changing mutation. Now transformed into a huge mutant badger, Thaddeus dedicates his life to conserving nature as an eco-warrior.
Amateur Surgeon 4: Re-Generations Edit
Thaddeus is re-generated while Dr. Rashid works on finishing up his task while accompanied by Ophelia Payne. When he is cured from his ailments from the wild, his body appears to have shrunken in size. He thanks the surgeons before going about his business.
Rashid's Description
Edit
Years of living in the wild as a mighty eco-warrior have left Dr. Lancet infested with all sorts of bad stuff. Time to make an incision and help him out.
Personality and Appearance
Edit
Thaddeus is a large, muscular black and white badger wearing blue jeans. He holds a large syringe on a single hand, while another rests on his back held by a strap. He acts noble and heroic, speaking in a booming voice.
Thaddeus will stab the syringe's needle into the patient, sucking up most poison puddles and boils around the area.
Nurse Lancet, the Legendary female counterpart of Thaddeus from the Supernatural Surgeries Blood Cup, retains the same skill. Additionally, she's capable of sucking up blood and sliced out poison with the suction device connected to her syringe.
Procedure
Edit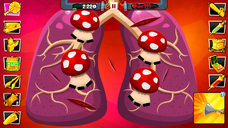 When entering into Thaddeus, you will encounter two mushrooms. They must be cut off with the chainsaw and extracted. Heal the burns and small cuts. Continuing to the lungs, there are four mushrooms to saw out, alongside a few cuts. When cleared, you can proceed to the stomach, where three snakes are present beside a single large cut and a couple burns. Zap the snakes to stun them, then mow them down with the chainsaw. Snakes take three hits to kill, which you can extract once defeated. Don't forget to slice out their leftover poison for the vacuum.
A small oversight appears in the post-operation cutscene for Thaddeus's surgery, where his first name appears spelled as "Thaddius" instead. Otherwise, his name is still spelled as "Thaddeus" in his partner biography, pre-operation screen, and file notes.
The mushrooms and snakes incorporated in his surgery are a reference to the music video titled "Badgers" by Mr Weebl.[1]
Reference
Edit
↑ Badger video: https://www.youtube.com/watch?v=EIyixC9NsLI
Community content is available under
CC-BY-SA
unless otherwise noted.